FOUR EASY WAYS TO GIVE A DONATION
AND SUPPORT THE PLAIN TRUTH MAGAZINE.
1. Donate online with JustGiving using your debit or credit card.
Set up regular donations with JustGiving and help us plan for the future of The Plain Truth magazine, to ensure we never have to stop publishing. You can gift a one-off donation too. Just click the button below to make your donation.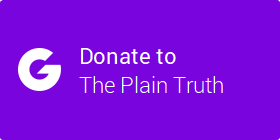 2. Donate by post with a cheque, debit, or credit card.
You can send your donations to us via post. If you are sending a cheque, please make it payable to The Plain Truth. If you wish to pay by debit/credit card, please download our Donation Form here, fill in the details and enclose it with your card details. Send your donation to:
The Plain Truth
15 Meadowlands
Burwell
Cambridge CB25 0HG
3. Donate by Bank Transfer
You can log in to your online bank account and select the option for making a payment to us. Our details are:
Account Name: The Plain Truth
Account Number: 90929409
Sort Code: 20-32-06
4. Donate by Standing Order.
If you'd like to set up a standing order to make regular donations, download our Standing Order Form here and fill in the details. You can then post it to us and we'll process it with your bank.
PLEASE HELP US BY GIVING A GIFT TOWARDS THE UK AND OVERSEAS PUBLISHING COSTS
OF THE PLAIN TRUTH FOR 2023 AND BEYOND. THANK YOU.