The hardest thing in the Christian life
By Dr David Wilkinson
I've always struggled with prayer and felt guilty about not praying more. Well-meaning sermons (including my own!) have emphasised the biblical sense of both the privilege and need of prayer in all Christian work and discipleship. Books on prayer and the lives of the saints have shown me the poverty of my own prayer life.
My problem with prayer, I concluded, was that I simply had not found the right form that suited me. And the history of my prayer life has therefore resembled a super spiritual search history on the 'Google' of different ways of praying.
I have tried praying kneeling, standing, sitting, walking, lying down, and crouched in that non-conformist way that everyone in a non-conformist church conforms to. I have prayed with my arms in the air, although not sure, due to what seems to me to be a change between charismatic generations, whether I should have my palms up or down! Otherwise, I have prayed with my hands clasped together, with prayer beads and crosses in my hands, and with my arms relaxed and open because someone told me that this welcomes the Holy Spirit.
I have prayed for other people with my hands hovering over them just as the charismatic leader John Wimber used to do – until I discovered that there was nothing mystical in this, but simply that Wimber used to pray for folk in a building which was stiflingly hot and had no air conditioning. The hovering laying on of hands was simply to stop it becoming a very sweaty form of ministry.
I have prayed with a loud voice and prayed in silence. I have used prayers and liturgies from Christian tradition, prayed in tongues, and used hymns and songs as a form of prayer. I have prayed in prayer meetings, cathedrals, in a small hole in the side of a mountain, on high streets and in convents and prayed aloud at the same time as 10,000 other people.
Then I have used a prayer journal, prayer cards, prayer letters and web resources. I have tried praying in the morning, lunchtime, dinner time and last thing at night. All of these forms have been useful; apart from that is praying early in the morning! I'm the type of person who simply doesn't understand why the Lord created mornings. I am sure that in the Garden of Eden the day started with mid-morning coffee and early mornings are surely the result of the fall!
Receiving an answer
Nevertheless, for all the diverse exploration of the forms of prayer I am left with the sense that the great 20th century preacher Martyn Lloyd-Jones was right when he said that prayer was the hardest thing in the Christian life. Why should that be? Perhaps it is to do not with how I pray but why I pray and further the way that I think about how God answers prayers.
And the question of how God answers prayers is deeply dependent on how I see God acting in the world. This has been an intriguing question for me for much of my Christian life. I was trained as a theoretical astrophysicist and my passion for science grew alongside my passion for Jesus. As I saw the Universe in all of its complexity, size and age of billions of years, I was struck at how behind it all were simple, elegant and indeed beautiful laws of physics. Within these laws of physics we could understand what happens around black holes in the centre of galaxies, describe the first fraction of a second of the Big Bang and even predict how the Universe would cool down into a heat death in its far future.
For me these laws were a reflection of the faithful relationship of a Creator who sustains every moment of the Universe's history, keeping it in existence and providing the order which science explores and exploits. Further, this ordered universe was a source of praise and thanksgiving to its Creator God.
However, for some this raises a difficult issue. If the Universe is governed by these laws of physics, then how does God work in answering intercessory prayer in specific ways? This question is not new and goes back to Isaac Newton. Sent home after the plague hit Cambridge, Newton engaged his head with an apple (or so the story goes) and he produced an understanding of gravity and the laws of motion which were amazingly successful in describing the motion of the planets in the solar system. Out of this arose the image of the mechanistic universe. The universe was a clock designed by the ultimate watchmaker. While some thought that this design could prove the existence and nature of God, it raised however a huge problem. Just as a perfect watch would not need constant correction by its maker, so God shouldn't poke his fingers into the mechanism.
The power of this image should not be underestimated. Miracle stories in the Bible could not be about God intervening in the world, they were simply stories made up by the early church to dramatize their belief about Jesus. God may have lit the blue touch paper of the Big Bang but then he had retired to a safe distance.
The implications for prayer were profound. Either God could not do anything in answer to prayer or prayer may only change the mind of the person praying. If God could not physically change anything in the world then what was the point of intercessory prayer?
No room for manoeuvre?
I find it amazing just how many people I meet and in fact how many theologians I work with who hold this view. I say amazing because this view of science is almost a hundred years out of date. Quantum theory says that at the level of atoms the world is inherently unpredictable. Chaos theory at the level of everyday experience says that we can understand the physics of a system such as the atmosphere but that does not mean that we can predict the weather with accuracy for more than a few days in the future. Twentieth century physics has given us a very different picture of a world which is far more open to the future and far more subtle than Newton's clock. This is not to deny the laws of physics, but to recognise that they do not immediately imply a universe where God has no room for manoeuvre. I'm not saying that God answers prayer only through quantum events and chaotic systems where his action is hidden. But I am saying that modern science, rather than closing down the conversation on what happens when I pray, actually opens it up.
Yet the argument that the Newtonian mechanistic universe rules out intercessory prayer has an even more profound weakness. Surely if the laws of physics are simply a description of God's normal ways of sustaining the universe, this God must have the capacity to do something unusual from time to time. God must have the freedom to work beyond his usual ways. As a Christian and a scientist I have always been drawn to the historical evidence for the resurrection of Jesus. I cannot describe how it happened because it goes beyond our normal experience of the laws of physics, but I can look at the evidence for it. Indeed as a physicist I am well used to trusting the evidence even if it goes beyond my common sense view of the world.
If I do have problems with prayer and how God works in the world then I find myself continually drawn back to the resurrection of Jesus. I don't have answers as to why God answers some prayers and not others, but I see in Jesus a God of compassion and power at work in the world in particular events and situations.
All this encourages me that God can answer prayer in, through and sometimes beyond our scientific description of the world. And that encourages me as a scientist and theologian to keep asking questions alongside sharing with God my specific prayer requests.
David Wilkinson is Principal of St John's College and Professor in the Department of Theology and Religion at Durham University.
His book When I Pray What Does God Do? is published by Monarch.
https://www.amazon.co.uk/When-Pray-What-Does-God/dp/085721604X
---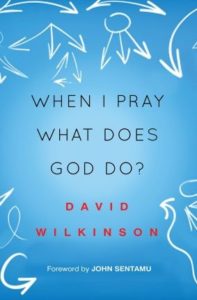 BOOK REVIEW
When I Pray What Does God Do?
By David Wilkinson
(With a Foreword by John Sentamu)
Already receiving some very positive reviews, we decided to bring you the comments of two senior Christian figures who have read this recently published title.
'If you are terrified by books on prayer – this isn't one of them! This combines humour, personal experience and informed intelligence. Rather than amplify human effort in praying, David walks us through all the obstacles to prayer into a new awareness of the God who responds to people trying to find him. An excellent read!'
– Revd Dr Joel Edwards, International Director, Micah Challenge and former General Director, Evangelical Alliance UK.
'Writing poignantly from his own personal experience, David Wilkinson addresses the reality of why God answers our prayers – but also why our prayers often go unanswered. He is an astute guide who leads us to explore scientific ideas such as quantum physics and chaotic systems to shed some light to our quest. At the end, he brings us to the God of the Bible who cannot be put into a pigeonhole but who loves us and relates with us in His sovereign will as His story unfolds from creation to new creation.'
– Bishop Robert Solomon, Bishop Emeritus of The Methodist Church in Singapore.
---
Published by: Monarch, May 2015
ISBN 13: 978-0857216045
Paperback, 224 pages
Price: £8.99
Available from Amazon: www.amazon.co.uk/p/085721604X